Understanding Inflation and Deflation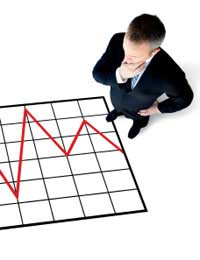 Recent media reports have been speculating that the UK economy is headed either for a period of high inflation or, even worse a nasty bout of deflation. But what are the differences between the two, and are the implications for the UK economy, and for all of us?
Understanding Inflation
Inflation is the term used to describe how prices rise in value over time. It means that a pound coin today will be worth less than a pound in twelve month's time, or that in one year you will be able to buy less with your pound than you could today.
How is Inflation Caused?
Inflation is usually caused by there being too much money available to buy a limited supply of goods and services (the law of 'supply and demand'). This usually happens when an economy is prosperous and there is a lack of labour and materials.
During inflationary periods companies can charge higher prices for their goods and services and, because peoples' wages, house prices and standards of living are rising too, most people can cope with a relatively low level of inflation.
A less welcome form of inflation can also be caused by the rise in price of commodities such as oil and gas, which happened during 2007 and 2008.
The Effects of Inflation
Inflation can have very damaging effects on a nation's economy, for several reasons. First, some people might find that prices are rising faster than their incomes, second, inflation erodes the value of an investment if the return on that investment is lower than the rate of inflation.
Finally, since periods of higher inflation often indicate an overheating economy, inflation often leads an economy from 'boom' to 'bust'.
Understanding Deflation
The other side of the inflationary coin is 'deflation'. As the name suggests, deflation is all about watching an economy slowly deflate over time.
Deflation takes place when average prices are falling. This might sound like a good thing (after all, who doesn't want the goods we pay for to keep getting cheaper?), but deflation can have serious side effects for an economy.
How is Deflation Caused?
Deflation is usually caused by a collapse in demand. The most obvious example is that in a period where prices keep falling, people will continue to defer their spending. Take your next car purchase as an example. Imagine if you were thinking about replacing your car for a new model that currently costs £25,000.
When Demand for Goods is Reduced
If you knew that the price of that car would fall by £4,000 in the next twelve months, chance are that you would put off your purchase, wait a year and then buy the car for £21,000 instead. Of course if you thought that in another year's time you could buy the car for £18,000, you might decide to hold off buying your new car for yet another year.
While as a consumer this makes perfect sense, for an economy, this sort of example can be devastating. The economy is based around the law of supply and demand, so if there is no demand for new cars this year the next, this causes a ripple effect, affecting a number of different industries, raising the rate of unemployment and causing large numbers of companies to go out of business.
The result of deflation is a vicious cycle, where consumers have no need or desire to buy, and businesses cannot make a profit or repay their debts. This leads them to cut their production and reduce their workforce, which leads to falling demand for goods, which in turn leads to even lower prices.
Should We Expect Inflation or Deflation?
Recent efforts made by the UK Government to help the UK economy have cost the taxpayer billions of pounds. The Government is banking on this money to help kickstart the economy and to avoid a period of deflation. Whether they are successful or not still remains to be seen. However, even if their plan does work, this money will need to repaid at some point in the future, at which time we could face the lesser, but by no means inconsequential threat of inflation.
You might also like...