Keeping Your Credit Report Clean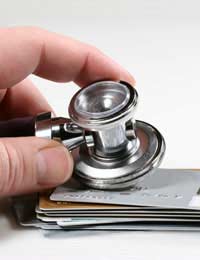 Without a good credit score, you will find it difficult to get personal loans, credit cards, mortgages, or even a mobile phone. So what steps should you take to keep your credit report clean?
Credit Rating Agencies
The largest credit rating agencies in the UK are Experian and Equifax. They gather information and make this available to companies looking to find out more about you. The data comes in three parts:
The electoral register: This is a list of everyone registered to vote. It is publicly available and contains the details of any person registered to vote at your address. Each time you move house you need to register.
Court records: These will show if you have a history of outstanding debts or credit problems, such as having been declared bankrupt, or had a County Court Judgment (CCJ) against you.
Financial information: Banks and other institutions gather lots of finance data held on each customer, including account details, as well as any history of late payments or defaults. Institutions regularly share this information with one another.
Credit checks do not include information such as criminal records, parking fines, student loans, or child support agency records.
Credit agencies are required by law to provide you with a copy of your credit report for a fee of £2. Once you have your report, it will be much easier to work out what you need to do to improve your score and get the credit you want.
The Electoral Register
This is the most important part of your credit check. If you are not registered to vote you may not be able to obtain any credit. If you have recently moved, you'll need to contact your local council to place yourself on the electoral roll. Lenders need to be sure that you are the resident of the property where you claim to live, so without being on the electoral register, this is difficult to prove.
Avoid Making Too Many Applications
Every time a lender makes a credit check on your behalf, the application is logged on your credit file (known as a 'footprint'). Too many checks in a short space of time will act as a warning signal for lenders, who might be concerned that you are taking on too much debt, and do not have the money to pay it back. So, if you have been denied credit, it might be sensible to wait a while until you try to make another application. When you check your credit rating you will not leave any footprint. This means you can run your own credit check as many times as you like, to protect against ID theft, without running the risk of affecting your rating.
Keep Up Your Payments
Lenders share information on your finances with each other, so if you are late paying your credit card bills or default on a mortgage payment, this information will be kept on file. To avoid a bad score, consider setting up direct debit payments for your payments. That way you can manage your money more easily, by arranging for the minimum payment to be taken out of your account each month. If companies can see that you keep a close eye on your finances, and pay off your debts on time, they will be more likely to view you as a good credit risk.
Close Old Accounts
Lenders are wary if a customer has too much credit available. If you have any unused credit cards or owe small amounts of money on some, try to get these debts paid off as soon as possible and close the accounts that you do not need.
Errors On Your File
If you spot something on your credit file that you think is incorrect, or suspicious, you can contact the credit agency and make a request for the details to be investigated further. The agency can either agree to change your details, or may refer you back to the lender where they obtained the original information. Mistakes DO happen, so it is worth being persistent (but patient) if you think something needs to be corrected.
The Six-Year Rule
Your credit history will contain all agreements you have entered into in the last six years. Bankruptcy orders, CCJs and Individual Voluntary Arrangements (IVAs) also remain on file for six years. Once the six years are up, and your debts have been repaid, you can request that the details are removed.
Even if your credit report doesn't show up any problems, you may still be refused credit. But just because you get rejected by one lender does not necessarily mean you will be rejected by all. Taking the necessary steps to improving your credit score means that you should in time be able to get the credit you deserve.
You might also like...