What Does the Recession Mean For You?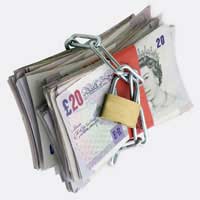 "A recession is when other people lose their jobs. A depression is when you lose yours." It's an old saying, but one that seems to be coming back into fashion. Recent reports on the economy have shown that the UK is close to recession. A recession is defined as two quarters of negative growth within the economy. But what will recession mean for you?
More Difficult to Borrow
The 'credit crunch' has meant that banks and other financial institutions have been particularly unwilling to lend. However, during a recession this is likely to get worse. The fear for banks is that businesses will go bankrupt and consumers won't be able to repay their debts, and could even default on their mortgages. For these reasons, the rates of interest on lending are going up, and more people applying for credit are being refused.
However, during a recession, one of the tools the Government can use to encourage lending and boost the economy is to lower interest rates. There's a strong likelihood that over the next few months interest rates will be lowered significantly, which should help anyone with a variable rate or tracker mortgage. It could also help banks to provide much-needed finance to businesses and consumers.
Higher Rates of Unemployment
Losing your job is usually the major concern during a recession. In the current climate, anyone with a job within finance or the housing market looks particularly vulnerable, although no industry can really be considered 'safe' during a recession. If you are concerned about the possibility of losing your job, you should think about taking out unemployment insurance or income protection. You might also start thinking about alternative job opportunities, or try to find a second income.
Failing Businesses
Small businesses tend to suffer most during a recession, as profits are harder to come by. A recession will make it more difficult for start-up companies who have just entered the market to obtain finance. Most new companies have high set-up costs, which leave them exposed if they cannot make an early profit. In a recession even large, well-established companies can find themselves being forced out of business.
Falling Stock Markets
During a recession, stock markets tend to fall because company profits are reduced and dividend payments are cut. Investors start to doubt the companies they used to have faith in, and they may also need to sell their investments to raise finance in order to pay off debts or cope with redundancy. However, not all investments suffer during a recession. Commodities such as gold and oil tend to perform well in a market downturn. Government issued bonds (Gilts) are also popular, because they guarantee a fixed rate of income without incurring stock market risk.
Consumer Confidence Falters
It can often seem that the outlook for an economy is extremely negative during a recession, and that there's no end to the bad news. It is worth bearing in mind that the media tends to take things to extremes, the credit crunch being the latest example of this. Events are rarely as bad, or as good, as the media depicts tries to paint them. The most important thing during a recession is not to panic but try to make the best of the situation you find yourself in.
Despite the impacts of the credit crunch, most people should be fortunate enough to remain employed during a recession. However, everyone will feel its impact, as the economy could remain depressed for some time. Banks and utility companies may increase their fees or supply costs, employees will pay reduced bonuses and you may not get a pay rise to keep your wages in line with inflation. You may find that the cost of your weekly shop has increased considerably, or you may notice that some of the shops in your high street have been closed down. Recession affects all of us in many ways, whether we realise it or not.
You might also like...