Critical Illness Insurance Explained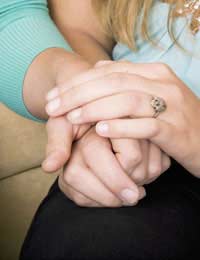 If you are diagnosed with a life threatening medical condition, the last thing you want to worry about is having to keep paying the mortgage or providing for your family.
Critical illness insurance is aimed at giving you financial assistance - and peace of mind - should you fall seriously ill.
Critical Illness Policies Explained
In the event of you being diagnosed with a serious illness or medical condition, a critical illness policy will pay you a lump sum amount (tax-free).
Most importantly, unlike life insurance, the policy will pay the lump sum while you are still alive.
Before you agree to take out a critical illness insurance policy, the policy provider will give you a Key Features document.
This will be the best way for you to compare the policies of different insurance companies, and to help you find one you are comfortable with.
The Key Features document will explain the policy in further detail and provide you will information on exactly what the policy insures you for.
Which Medical Conditions are Covered?
Each critical illness policy has its own set of medical conditions they cover, identified as 'core' illnesses and 'additional'.
Core conditions are those that are considered by the insurance industry as the most common critical illnesses.
These conditions include: cancer, stroke, heart attack, by-pass surgery, major organ transplant, kidney failure and multiple sclerosis.
Addition conditions will vary, depending on the policy provider. They can include conditions such as brain tumour, coma, blindness, loss of limbs, Parkinson's disease and paralysis.
Of course, there are many different types of illness under the main definitions. For example there are many different types of cancer.
Some cancers and other conditions therefore may not fall within the definition of a critical illness, and may not be covered by the policy. A policy will only cover those conditions set out within its Key Features document.
Policy Exclusions
There are other illnesses that are excluded from most critical illness policies, such as HIV/AIDS, drug abuse, dangerous sports and activities, criminal acts and when the claimant has failed to follow medical advice.
Again, different policies will have their own distinct list of exclusions. These are also to be found within the Key Features document.
The Cost of Critical Illness Insurance
Most policies expect you to pay a regular premium, either monthly or annually. The size of the premium will depend on a variety of different factors, such as your age, your gender, occupation and, of course, your health.
Existing medical conditions will have to be disclosed to the insurer, and if you are a smoker, you will also have to tell the insurance company. Premiums can increase as you get older – the insurer company will give you reasons for this.
It is important to complete your insurance application forms in full, as honestly as you can. Conditions such as high blood pressure and high cholesterol levels should always be disclosed. You may be requested by the insurance company to complete a medical.
Critical illness providers will not pay out if they believe that the policyholder has failed to provide important information that could affect the claim.
How to Make a Claim
If you have suffered a heart attack or stroke, or you are diagnosed with a critical illness, you – or someone acting on your behalf – should contact the company who issued the insurance policy.
They will send you a claim form and they will ask you to provide them with details of the medical condition or illness and the doctor who made the diagnosis.
The insurance company will contact the doctor to gather all the information they need to determine the facts surrounding the claim.
If the information provided confirms the critical illness is one covered by the existing policy, the claim will then be paid as soon as possible.
If the Claim is Denied
If the insurance company refuses to pay out on your claim, you have the right to find out the reasons why they have denied the claim, and you also have the right to make a complaint.
The Key Features literature will give you details of how to contact the policy issuer to make a complaint. If you are not satisfied with how the complaint is dealt with, you can contact the Financial Ombudsman Service to request they intervene to settle the dispute.
Critical illness policies will be of absolutely comfort to you if they refuse to pay out when you fall ill. The best way to avoid this unpleasant scenario is to make sure that you complete the application form as comprehensively as possible
You should also make sure that you know which medical conditions the policy covers, and which conditions will not be covered.
You might also like...