What is Ethical Investing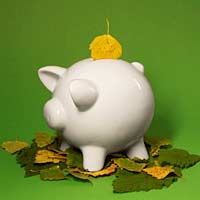 From Fairtrade coffee to organic fruit and vegetables, from recycling to energy conservation, every day we are constantly being persuaded of the importance of being more ethically aware. So can you apply this ethical approach to your investments? More importantly, will it make you money?
Humble Beginnings
Ethical investing has been around for longer than you might think. In 1984, Friends Provident launched the UK's first ethical fund, to a fairly unenthusiastic market.
Almost a quarter of a century later, there are over 100 different ethical and socially responsible investment (SRI) funds, and together they manage a combined total of around £9 billion of investor money.
What is an Ethical Investment?
Ethical investments are described as those that apply a more strict selection criteria to the companies they choose to invest in. The criteria that ethical funds use tends to contain an element of social, moral or environmental responsibility.
Selection Criteria
For example, many funds state they will not invest in any companies that they believe are involved in potentially harmful products, such as tobacco or weapons, and will avoid companies that have employ questionable business activities such as using child labour. Each ethical investment has its own criteria, and some may be stricter than others.
Differences Between Ethical and SRI Funds
It is important to understand the differences between ethical funds, and SRI funds. Most ethical funds base their stock selection on avoiding the industries or companies that do not meet their criteria. These are known as 'dark green' funds.
Most SRI funds, on the other hand, take a broader, more positive approach to choosing stocks. They are actively looking for companies that help to 'do good', instead of just trying to avoid those they consider to be 'bad'.
This means that, providing a company can tick some of the boxes when it comes to taking part in social and responsible activities, they could be considered eligible for inclusion.
Corporate Engagement
SRI funds often also try to talk to companies directly, in an effort to get them to improve their business practices and find more sustainable and responsible ways of working. This is known as corporate engagement, and it's a powerful tool for SRI investors who are looking to see companies change their ways for the better.
Climate change funds have also become increasingly popular in the last couple of years, as what once was a portion of the ethical investment market has widened significantly to combat a growing global concern. They exist to invest solely in companies and industries that are committed to developing positive climate change solutions. This could include industries such as alternative energy projects, wind farms and recycling solutions.
Do Ethical Funds Make a Profit?
Ever since their introduction back in 1984, there has been a long-running debate about the financial performance of ethical funds. Critics argue that by limiting the range of companies that these funds can invest in, you also limit the returns that they can make. While initially this might seem to make sense, there is a solid body of evidence that finds the reverse.
On balance, companies that pay attention to social and environmental issues turn out simply to be better-managed and more profitable companies than those that don't. Limiting your universe is not such a bad idea if you are looking to screen out those companies that are badly run, are constantly involved in lawsuits, or belong to an industry that will soon be overtaken by cleaner, more environmentally friendly alternatives.
However, many ethical and SRI funds have seen their performance suffer this year, mostly because this year's strongest performers have been areas such as mining, oil, gas and tobacco, which would never meet the criteria of most light or dark green funds.
Investing in the Future
But ethical and SRI investing is not just about short-term results. Their popularity is more to do with increasing numbers of investors believing in the need for companies to start doing something positive and sustainable over the long-term.
The UK Government, for example, is committed to increasing levels of renewable energy from its current level of 3% to 20% by 2020. Therefore, the outlook for companies within the renewable energy sector is a positive one, and the number of investment opportunities for ethical and SRI funds to invest in is growing all the time. It's an investment case that's hard to ignore, and is proving more difficult to argue against.
If you are looking to invest over the long-term, and you feel that you should use your investment to help bring about positive change, it would be worth discussing ethical and SRI funds with your Independent Financial Adviser.
You might also like...