How 'Pound Cost Averaging' Can Work for you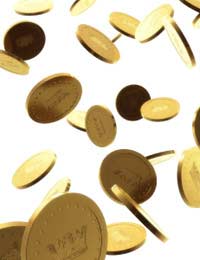 It's never fun to watch the stock market fall heavily, and see the value of your investment take a nosedive. Most investors see markets falling and want to withdraw their money as soon as possible, before it takes a further hit.
However, there is a way for you to take advantage of stock market falls, and by using the theory of 'pound cost averaging' you can increase the long-term value of your investment.
Investment professionals often say that the secret of good portfolio management is a simple one. Namely, to buy more shares on the days when the market goes down, and to sell them on the days when the market is up. This is called 'market timing', and it's a sensible investment strategy.
As an investor, you may find it more difficult to make money through market timing. But you can take advantage of market down days if you save regularly, by taking advantage of 'pound-cost averaging'.
Understanding Pound-Cost Averaging
There's a simple theory associated with pound-cost averaging. Purchasing shares on a monthly basis means that you effectively remove the short-term peaks and troughs that can have a negative effect on an investment. This is because, when the market is going up you are able to purchase less shares with your monthly contribution, and when the market is going down you are able to buy more. You give yourself the possibility of making higher returns on average than you would by investing in a lump sum at any given time.
The Power of Regular Contributions
Pound cost averaging means that even if the value of your investment takes a hit, provided you keep making regular contributions, there's a good chance that you can pick up more of the investment at a cheaper price.
Take the following as an example. An investor saves £50 a month in the shares of an Investment Trust. Over a six month period the price of the shares goes down, which means that each month the £50 invested is used to purchase more shares than the previous month.
After six months, the share price of the Trust recovers, which means that the value of the shares you bought over the past six months has increased in value. The brief period of market volatility has worked out to your advantage over the longer term, and your investment is worth more now as a result.
Getting into the Savings Habit
Regular savings and investment schemes are the best way to benefit from pound cost averaging, and they also instill the savings habit by committing you to making regular monthly contributions. They are especially useful for small investors who want to put away a little each month. Investors with an established portfolio might also use them to build exposure a little at a time to more risky areas of the market.
Regular investing requires a disciplined approach, and you will need to hold your nerve when markets are falling. As long as you can do this, you can help take the sting out of short-term market volatility and help your investment to achieve sustained growth over longer time periods.
The same strategy can be used by lump sum investors too – most fund management companies will give you the option of drip feeding your lump sum investment into the fund in regular amounts. By effectively 'spreading' your investment, with small contributions on a regular basis, you help to average out the price you pay for market volatility.
You might also like...