Negative Equity: Should You be Concerned?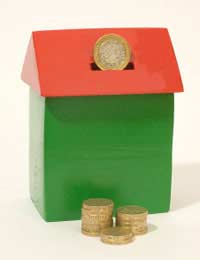 Negative equity is a situation that any mortgage holder could potentially find themselves in. The term describes when the mortgage you owe on a property is larger than the present value of that same property.
When you apply for a mortgage, the mortgage company will conduct a survey on the property and make an assessment that will determine their valuation of the property and the sum of money they are willing to lend.
Over the last two decades, house prices have been a consistent upward path, and a great number of people have made paper profits on their property, having see the value of their home rise to far higher levels than the original mortgage they took out.
In recent years, house price increases have become unsustainable and first time buyers – who are the lifeblood of the mortgage industry – have simply not been able to afford to get onto the property ladder.
Furthermore, the recent economic downturn, and the credit crunch, has had a significant impact on the housing market, shrinking the number of mortgages available in the marketplace and forcing sellers to drop the asking price on their homes rapidly.
Who is Effected Most by Negative Equity?
Negative equity has a more damaging impact on people who have a high loan to value (LTV) on their mortgage. This is why people who have taken out large mortgages with an LTV of 95% or 100% or, in the case of some Northern Rock mortgage holders, even 120%, are now getting very concerned.
Here's an example. If you purchased your house for £250,000 twelve months ago, and took out a 100% interest-only mortgage, this means that if current value of your home falls to £245,000, you would still owe £5,000 on your mortgage if you sold your house.
However, if you had purchased the house with a mortgage of only 80% of the full value, and made up the rest in the form of a deposit, then you would still be able to repay the mortgage, even if you sold at a lower amount.
The value of the property would have to fall to below £200,000 (or 80% of the property), before you would fall into negative equity, although of course you would still have lost some of your original deposit money.
If you took out a 120% mortgage, you could be in serious trouble, because if the value of your property falls by just 5% from its purchase price you would face a mortgage shortfall of 25% if you had to sell.
The Last Negative Equity Crisis
We have been here before. Back in the 1990s, interest rates were as high as [11%], and many people who found themselves unable to make their monthly mortgage payments were forced to hand their housekeys over and see their home repossessed.
What you Can Do
Negative equity is a concern, but the only victims of negative equity are the people who sell their house and, or cannot afford to maintain their mortgage repayments. The valuation given to a house is dependent on supply and demand, and changes over time.
After a crash, house prices tend to recover over time. So, even if you are negative equity territory now, this may not be the case in two, five or ten years' time.
If you are struggling to maintain your mortgage payments, the first thing you should do is talk to your mortgage provider and make them aware of the situation.
They should be able to help you, by suggesting ways that you can prioritise your debts, and perhaps agreeing to change the terms of your mortgage to allow you some breathing space.
The government has set out guidelines to mortgage lenders which expects them to be sympathetic to their mortgage customers and only go forward with a repossession order as a last resort. Recently RBS announced that they were extending the period before requesting a repossession to six months.
You might also like...