Buying Property Overseas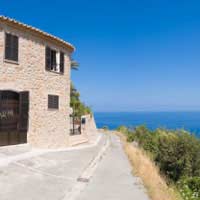 For millions of Britons fed up with harsh winters and drizzly summers, a property abroad seems like a pipe dream.
Yet, every year more people are taking the plunge and finding their own place in the sun.
So, how easy is it to purchase an overseas property, and what do you need to know?
Can you Afford It?
Most people will not be able to purchase a second home outright without calling on a bank for assistance.
You can either increase your existing mortgage, or if you own your own home outright, you can arrange a new mortgage on the existing property.
However, most mortgage lenders are only wiling to offer you up to a maximum loan of 75% and you run the risk of having both homes repossessed if you are unable to maintain your mortgage repayments.
The other option is to arrange an overseas home mortgage. Most of the main high street lenders now offer mortgages on foreign property, although you may have to pay higher fees than you would expect to pay for a UK-based mortgage.
You could also think about taking out a mortgage in the local currency. For example, most high street banks also offer Euro and Dollar mortgages.
How Long Does it Take?
The timescale will depend on the country you are buying in. In Spain, Greece and Italy a house purchase usually takes an average of twelve to eighteen weeks, whereas in France you may find yourself waiting for twenty weeks or more.
Wherever you decide to buy, it pays not to try to do anything in a rush. You should make sure that the process is thorough, that all legal implications and requirements are being undertaken and that you will be well-protected in case anything goes wrong.
More importantly, you should be wary if a property agent or seller is trying to rush the deal through, or looking to persuade you to cut corners.
Forward Transactions
However, you do not want the transaction to take forever, as the longer it stalls, the more you could suffer from interest rate movements that could add to your costs. You can speed up the process with a 'forward transaction'.
This allows you to agree in advance the exchange rate you will be paying for the property, and keep it fixed at the same level up to the completion date.
There are a number of currency specialists that can help you to arrange a forward transaction and also offer you advice on the costs associated with overseas purchases.
Overcoming the Language Barrier
As with any house purchase, you'll need to enlist the services of a good solicitor. Your mortgage lender should be able to help find some reputable local professionals, who will speak English.
Failing that, the Law Society keeps up-to-date lists of solicitors who specialist in overseas property transactions.
Whatever you do, make sure that when you find a solicitor, that you come prepared with as many questions as you can think of.
You need to make sure that you have complete confidence in the solicitor, and that they know all the ins and outs of buying property in that particular country.
How Expensive Will it Be?
Again, this all depends on the country where you will be making the purchase. In France for example, legal cost tend to be high – sometimes as much as 15% of the property's value.
In Spain, legal fees and occupancy tax will cost somewhere in the region of 10%.
You will also need to think about other living costs associated with the property, such as service charges, and water and electricity bills.
You should set up a current account in the local currency to ensure that you are able to pay these bills on time.
Renting your Property
If you are looking to rent out your property, you will need to declare this to the UK Inland Revenue.
Your solicitor will also be able to advise you on any local tax implications too, although most countries have reciprocal arrangements in place with the UK to make sure that you don't end up having to pay tax twice.
The Overseas Property Market
Remember that, as with the UK, the value of property overseas can go down as well as up.
As increasing numbers of overseas investors look to purchase property abroad, this can cause a 'bubble' in house prices, which rise to meet the increased demand.
Keep this in mind when you are looking to purchase you dream holiday home.
Last but not least, make sure that you are buying your home for the right reasons, for enjoyment rather than to 'get rich quick'.
Do not commit to buying somewhere that you have never visited, and don't be seduced by the promises of making easy riches.
You might also like...