Why You Should Invest in the Stockmarket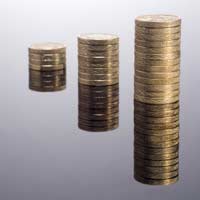 To many people, the stockmarket is a mysterious and irrational world, where billions of pounds can be won or lost on a daily basis. However, if you are really serious about becoming an investor and giving your hard-earned savings the best opportunity to grow over the long-term, then the stockmarket is your best option. History shows that despite the volatility of stockmarkets, shares consistently outperform all other asset classes.
What are shares?
A share is simply a small stake in a company. Whoever buys a share is literally a part owner in the company, and as such they are able to profit from the company's success. Shares are also known as equities, or stocks. These shares can be traded on an exchange with other investors.
The Benefits
If you invest in the shares of a company, there are two main ways that you stand to benefit. First, if the company is successful and grows over time, it will make hopefully make a profit and the price of the shares will rise
A profitable company can decide to pay its shareholders a percentage of the profit (a dividend), or they may choose to reinvest the profits to help the business grow. Some companies are known as 'income' companies because they pay consistent dividends over long periods. 'Growth' companies prefer to retain their profits to help grow the business and try to increase the share price this way.
The Drawbacks
Investing in shares carries bigger risks than putting your money in a savings account. If a company cannot continue to operate and declares itself bankrupt, then there is a strong possibility that your shares will be worthless. Recent examples of high profile companies in the US, such as Lehman Brothers and Washington Mutual have demonstrated that although rare, bankruptcies of large firms can happen. Other companies have seen their share price fall dramatically in the last few months, knocking billions of pounds off the value of the company, and lowering the value of the investment drastically.
Fund Management
That's why many investors prefer to invest through a fund, rather than purchasing the shares of individual companies themselves. A fund builds up a diverse portfolio of stocks, from different sectors of the market and even different regions. This diversity means that even if a company held within the portfolio goes bust you will not lose your entire investment, and you will have the returns of other companies to help make up the shortfall.
Passive or Active Management
If you decide to entrust your investment to a fund manager, you will then have to decide whether you would prefer your fund to be passively or actively managed. A passive fund is also known as a 'tracker' and it is designed to mirror the performance of an index, such as the FTSE 100 Index. If the index rises or falls in value, so does the value of the fund.
An actively managed fund is different, because a specialist fund manager is appointed to do the buying and selling. The aim to add value and outperform the index by using their stock selection skills and investment expertise to take positions in companies that they believe to be undervalued or with good growth potential.
There is some debate about which option is better for investors. If you are looking for a low-cost investment that will deliver returns the same as the market, then passive funds are a good starting point. However, passive funds can only replicate the index, and if markets are falling, they cannot take cover in more defensive areas of the market.
Take the recent financial crisis as an example. Banking stocks traditionally make up a large proportion of the FTSE 100 index. So when banking stocks started to nosedive, tracker funds fell with them. An active manager would have been able to spot the difficulties (preferably before the share prices of banks fell heavily), and switch their portfolio into more defensive areas of the market, even putting some of their money into cash as a way of protecting their investment.
Which is Best?
If you think that a skilful fund manager would be able to provide you with returns that are considerably better than those of the market, and give you greater peace of mind during periods of volatility, then an actively managed fund would be the way to go. Bear in mind, however, that the charges for an active manager are higher than those you would expect to pay for a passive fund.
Understanding the stockmarket and becoming a successful investor takes patience, and doesn't happen overnight. There is never a guarantee that you will make money, but if you recognise the risks and you are prepared to do the necessary research, you can take some of the mystery out of investing.
You might also like...