Why do I Need Financial Advice?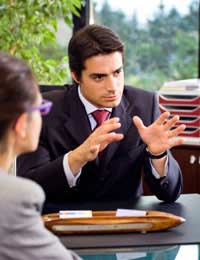 When it comes to managing your finances, it pays to get sound, professional advice. Key moments in your life, whether they include getting married, buying a house, starting a family or planning for retirement, require you to set aside considerable savings , which can often put a strain on your finances.
To complicate matters, the sheer number of different products available in today's market can be bewildering. A financial adviser can make your money work harder for you, by setting out your financial goals and finding the most suitable products that will help you achieve them.
What Will a Financial Adviser Do?
First they will undertake a 'fact-find', which will involve them asking detailed questions about your current finances, including any existing debts or savings your might have. Next they will ask you about your attitude to risk, and your financial goals, in the short-term, medium term and long term. The aim is to establish your financial wellbeing, and to make suggestions of ways you can improve your situation.
After they've conducted the fact-find, your financial adviser will be able to provide you with detailed information on what you need to do to achieve your goals.
This could include developing a budget to help you manage your money more wisely and pay off your debts, setting aside some savings for the future, setting up a pension or portfolio of investments, or recommending insurance and protection products to safeguard your future financial wellbeing.
A financial adviser can also make life easier by finding the most suitable products and services to meet your needs. If you're seeking professional financial advice, there are several options available to you. It is important to know the status of your financial adviser, because it could dictate the level of financial advice you receive and the products and services available.
'Tied' Advisers
A tied adviser is only able to offer you the products available from one product provider. For example, many estate agents often have mortgage advisers that will offer homebuyers mortgages from only one company. Although a tied adviser will give you a recommendation on the products most suitable for you, you may feel that this restricts your choice and feel that you might be able to find a better deal elsewhere. Also a mortgage adviser may not be qualified to give you financial advice on other financial matters, such as savings and investments, or insurance and protection.
'Multi-Tied' Advisers
A multi-tied adviser can offer advice on products from more than one company, and they usually have a preferred panel of companies with which they have am existing relationship, and that they choose to sell from. This will increase your level of choice compared to a tied financial adviser, but you may still be restricted, depending on the limited list of products available.
Independent Financial Advisers
An Independent Financial Adviser (IFA) can offer you fully impartial financial advice, and will have full access to a broad range of products and services throughout the market. If you're looking for truly independent advice, an IFA offers the best solution.
Solicitors and accounts are sometimes also authorised to give financial advice, although as is not their area of expertise you may prefer to seek advice from someone with a specialist background in the products you are interested in.
Why Should you Seek Financial Advice?
Financial advisers are qualified investment professionals, and regardless of whether they are independent, multi-tied or tied, they should be regulated by the by the Financial Services Authority (FSA). Like any professional service, good financial advice is worth paying good money for.
You might also like...